Description
ZenWiFi AX (XT8) is a whole-home mesh WiFi system that combines extremely fast and stable wireless networking performance with simple configuration and elegant design. Featuring the latest WiFi 6 technology, a tri-band design and an optimized antenna placement, ZenWiFi AX takes mesh WiFi to a whole new level with dramatically improved coverage, speed and stability. Updated AiMesh technology makes setting up a mesh WiFi network simpler than ever, yet offers advanced, in-depth controls for users who want to configure their network to their specific needs. With its elegant design, ZenWiFi AX blends easily with any décor, fitting as easily in the living room as the home office.
WiFi 6
ZenWiFi AX provides 160MHz bandwidth and 1024-QAM for dramatically faster wireless connections. With a total networking speed of 6600 Mbps, ZenWiFi AX is up to 2.2X faster than tri-band AC3000 (WiFi 5) routers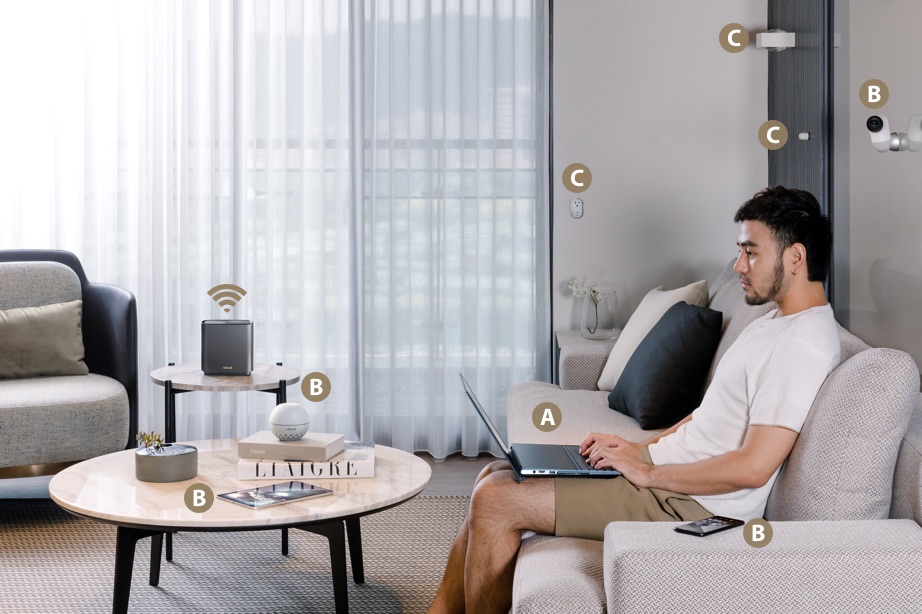 Works with any WiFi device
WiFi 6 is fully compatible with all generations of WiFi, so you can connect any device to ZenWiFi AX, no matter if it uses 802.11ac, 802.11n or other previous WiFi standards.
A: WiFi 6

B: 802.11ac

C: 802.11n
AiMesh Technology
Even non-experts can quickly set up AiMesh technology, while more experienced users will appreciate the comprehensive, advanced networking features.
Specifications
Network Standard

IEEE 802.11a
IEEE 802.11b
IEEE 802.11g
IEEE 802.11n
IEEE 802.11ac
IEEE 802.11ax
IPv4
IPv6
Product Segment

AX6600 ultimate AX performance:574+1201+4804Mbps
AX technology

Data Rate

802.11n : up to 300 Mbps
802.11ac (1024QAM) : up to 3466 Mbps
802.11ax (2.4GHz) : up to 574 Mbps
802.11ax (5GHz) : up to 4808 Mbps
Antenna

Transmit/Receive

2.4 GHz 2 x 2
5 GHz-1 2 x 2
5 GHz-2 4 x 4
Processor

1.5 GHz quad-core processor
Memory

Boosts speed

OFDMA (Orthogonal Frequency Division Multiple Access)
Beamforming: standard-based and universal
1024-QAM high data rate
20/40/80/160 MHz bandwidth
Operating Frequency

2.4G Hz, 5 GHz-1, 5 GHz-2
Ports

RJ45 for 2.5G BaseT for WAN x 1, RJ45 for Gigabits BaseT for LAN x 3
USB 3.1 Gen 1 x 1
Button

WPS Button, Reset Button, Power Switch
LED Indicator

Power Supply

AC Input : 110V~240V(50~60Hz)
DC Output : 19 V with max. 1.75 A current
AiMesh

AiMesh : Yes
Primary AiMesh router : Yes
AiMesh node : Yes
Router APP

Game

Game Boost/acceleration : No
WTFast : No
Alexa

Support Alexa skill : Yes
IFTTT
Support IFTTT : Yes
AiProtection

AiProtection : AiProtection Pro
Malicious site blocking : Yes
Two-Way IPS : Yes
Infected Device Prevention and Blocking : Yes
Parental Control

Parental Control : Yes
Traffic Control
Adaptive QoS : Yes
Traffic Monitor : Yes
Traffic Analyzer : Yes
Wireless

IPv6 : Yes
MU-MIMO : Yes
Wi-Fi Encryption : WPA2-PSK, WPA-PSK, WPA-Enterprise , WPA2-Enterprise , WPS support
UTF-8 SSID : Yes
Guest Network : Yes
Maximum Guest Network rule : Max 9 rules
WPS : Yes
Wi-Fi MAC address filter : Yes
Maximum MAC filters : Max 64 rules
Wireless scheduler : Yes
Airtime fairness : Yes
RADIUS Server : Yes
Universal beamforming : Yes
Explicit beamforming : Yes
WAN

Dual WAN : Yes
WAN Aggregation : No
3G/4G LTE dongle : Yes
DMZ : Yes
DDNS : Yes
Let's Encrypt : Yes
LAN

IGMP snooping : Yes
IPTV : Yes
LAN Link Aggregation : No
VPN

VPN Client L2PT : Yes
VPN Client OVPN : Yes
VPN Client PPTP : Yes
VPN Server IPSec : Yes
VPN Server OVPN : Yes
VPN Server PPTP : Yes
VPN Fusion : No
USB application

File System : FS_Tuxera_HFS+, FS_Tuxera_NTFS, FS_Tuxera_vFAT, FS_ext2, FS_ext3, FS_ext4
AiCloud : Yes
Download master : Yes
AiDisk : Yes
Media Server : Yes
Time Machine : Yes
Samba Server : Yes
FTP Server : No
Administration

Operating mode : Wireless router mode
Range extender mode
Access point mode
Media bridge mode
Firewall : Yes
Maximum Firewall keyword filter : Max 64 rules
Maximum Firewall network service filter : Max 32 rules
Maximum Firewall URL filter : Max 64 rules
Wake on LAN (WOL) : Yes
Diagnosis tools : Yes
Feedback system : Yes
System log : Yes