Description
WORLD'S FIRST LIGHTNING-SPEED MECHANICAL SWITCH
Innovative LK Optic Switch technology uses an optic switch to react at lightning speed with an extreme 0.2ms key response, always one step ahead of your enemies, creating more passion for gamers.
LK Light Strike Libra

Customizable RGB

6 RGB Lighting Effects

LK Sound Creator Tech

Zero-Lag Response

Ultra Durable, 100 Million Lifetime
Light Strike (LK) Libra

Innovative Light Strike (LK) Libra technology leverages a balance bar to control direct up-down movements and prevents accidental keystrokes, allowing you to trigger with absolute speed and accuracy.

0.2ms Key Response

Light Strike (LK) Libra switch technology uses an optical detection to react with a lightning speed of 0.2ms response time and an actuation point of 1.5mm.

Zero Digital Latency

Light Strike technology outperforms other key switches. LK optical switch removes all input lag which is able to obtain zero digital latency.

Exclusive "Long-Lasting" Typing Sound

LK Sound Creator Technology was developed for "long-lasting" typing sound, while a regular switch uses metal friction to generate typing sound and tends to fade away after several months.

Ultra Durable, 100 Million Lifetime

LK Optic switch has a life span of over 100 million keystrokes. (Traditional metal switch tends to oxidize and wear out easily)

Self-Customize RGB Animation

Customize freely 3 types of RGB Animation modes with 16.8 million color options, making your own unique "Self-Customize" RGB.

Preloaded 6 RGB Lighting Effects

6 Types of lighting effects are preloaded on the keyboard by default. Adjust the lighting effects by pressing the "FN" keys with the "F12" keys to rotate without a driver.

Adjustable Backlights

Press Fn + F12 to adjust the lighting effects.
Press Fn +"↑ / ↓" to adjust the light brightness.

Share The Customized RGB Animation

Store your favorite RGB Lighting Effects from FN+ 0 to 9. And you may share your newly created RGB Animation lighting effects with your friends or vice versa.

100% Key Rollover

100% Anti-ghosting with full key rollover ensures your simultaneous key commands always register.

Spill-Resistant Nano-Coating

Exclusive advanced Nano-coating over the PCB board protects the PCB from corroding by wet air or caustic chemicals, prolonging your keyboard lifetime.

Smart Water Flow System

Both drainage channels and holes are set in a precise positions, ensuring the water flows out efficiently.

Reinforced space bar

The design of the space bar uses double springs and balancing bars so it is accurate and stays durable.

Detachable Wrist Rest

A mirror-polished panel that's portable and allows comfortable gaming.

Metallic body

Metallic aluminum alloy surface, durable and long-lasting.
ERGONOMIC ENGINEERED DESIGN FOR DURABILITY
Bloody keyboards feature a unique design, high-quality precision, and state-of-the-art technologies. Focusing on details, convenience, and ergonomics makes it at the top. As the centerpiece to your gaming setup, Bloody keyboard is designed to deliver total satisfying control right to your fingertips.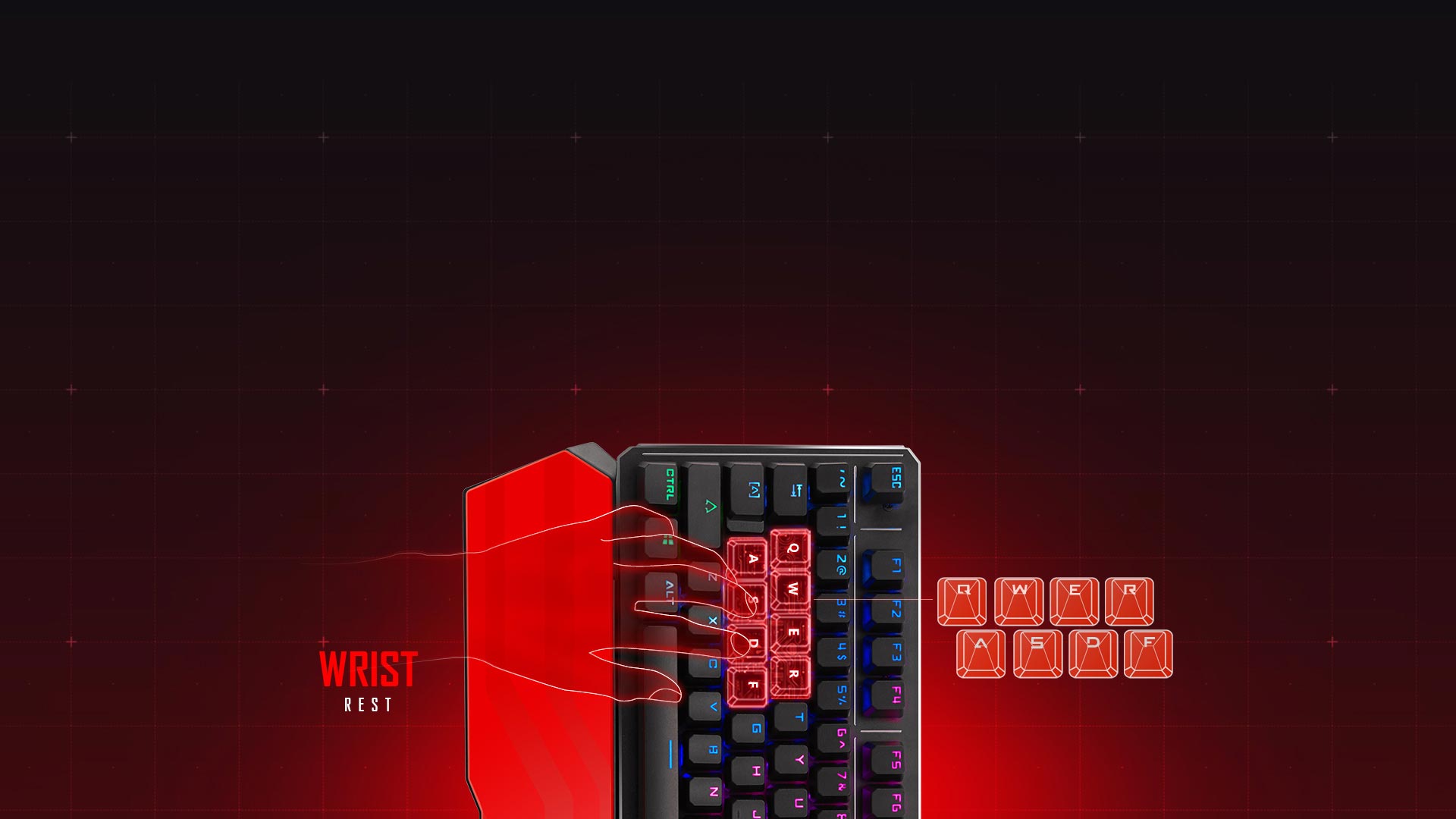 TECH SPECS
PERFORMANCE
Connector: USB
Key Style: Optic switch
Key Response: 0.2ms
Anti-Ghosting Key: 100% Anti-ghosting key
Gaming Keycaps: 8 ABS Keycaps
Hotkey: Multimedia Hotkey
Backlit: Customize RGB Animation
Backlit Brightness: Adjustable
Space-Bar: Screw-enhanced space-bar
Memory Backlight: 6 Free driver RGB lighting modes
Key Lifetime: Up to 100 million keystrokes
Report Rate: 1000Hz/1ms