Description
B930 RGB - mechanical keyboard using LIGHT STRIKE II technology.
LIGHT STRIKE II - a revolutionary technology of LIGHT STRIKE mechanical optical switches using infrared sensor to activate the button. LK provides only 0.2 ms delays and over 100 million clicks.

MULTIMEDIA KEYS
The Bloody keyboards have been fitted with navigational multimedia keys enhancing the user's comfort when using applications and peripheral devices.

LIGHT STRIKE K
Application of state-of-the-art technology using infra-red for micro-switch construction resulted in an exceptionally short response time of the device – less than 0,2 ms!!! Infrared  switched also solved the issue of the double-click effect. New technology guarantees precision and no delays. It is up to 30% faster than keyboards using traditional, metal switches and 50% faster than traditional membrane switches.
Our Bloody Infrared Switch allows you to enjoy a 100% performance of your device for a long time. Engineers working at Bloody guarantee the keys' endurance of up to 100 million hits. Thanks to the system, dust does not cause interference with data transmission. Characters will never be wiped off, as they are cut in the keys with laser technology; what is more, the characters may be backlit (optional) to provide more comfort for the user.
Bloody Infrared Switch is surrounded by a 6-mm barrier protecting the mechanism from accidental wetting.
Light Strike is the best gaming keyboard in the world. Even the most demanding users will be fully satisfied with their choice – the device's response time will always help them beat their opponents.

BACKLIGHT REGULATION
Thanks to intensity (or color–option) management technology, the user can set a keyboard backlight that best fits him/her and the environment.

SILICON ANTI-SLIPPER
The Bloody keyboards are fitted with silicone feet allowing an optimal set and preventing the keyboard from gliding during the game.

RGB BACKLIGHT
The RGB system is a way of creating light that allows you to get any incredibly saturated color. Thanks to the RGB backlight, BLOODY products are perfect for night gaming sessions.

PROGRAMMABLE BUTTONS
Programmable buttons allow you to personalize the product according to your needs by assigning functions to individual keys.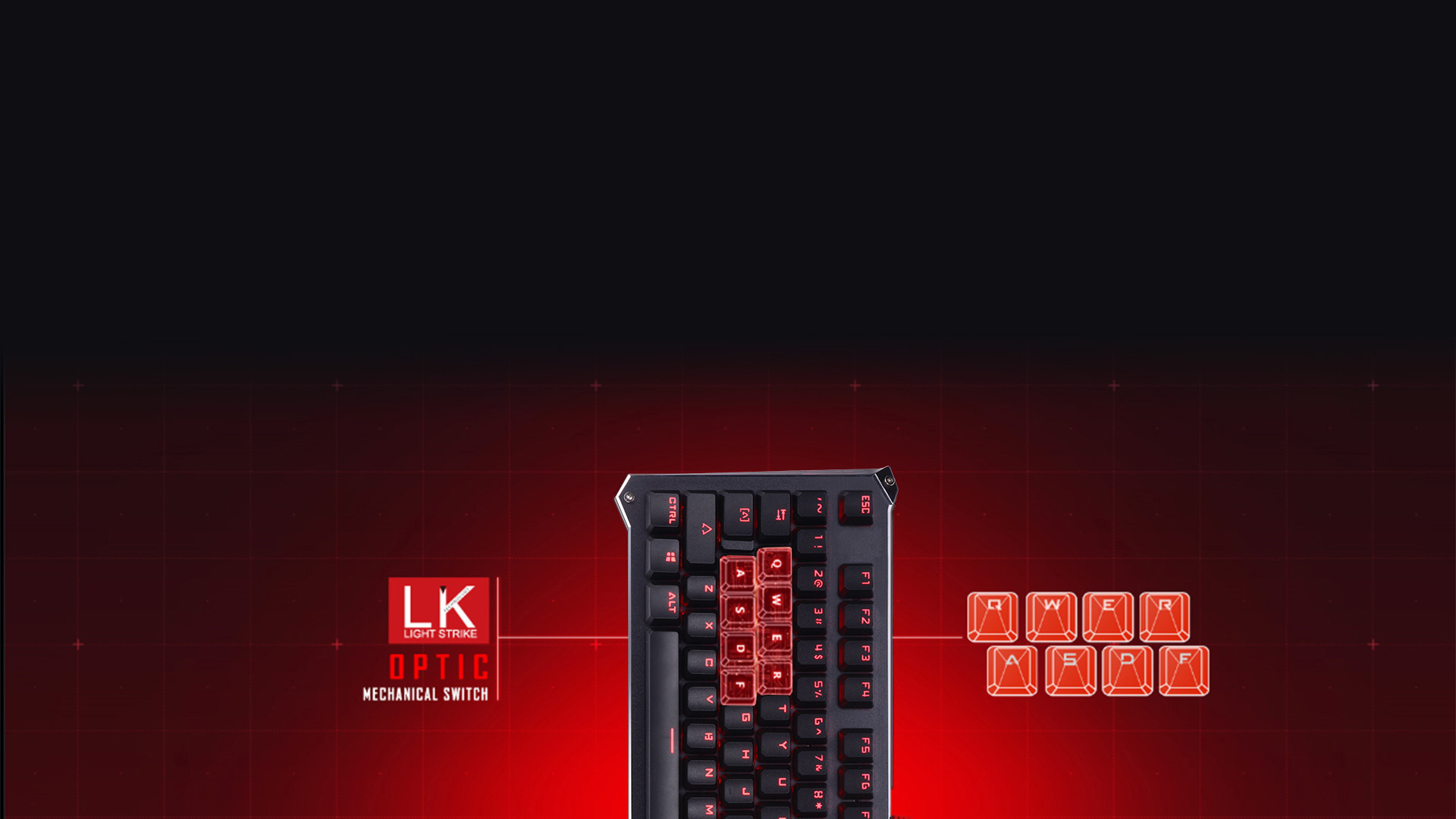 TECH SPECS
PERFORMANCE
Connector: USB
Key Type: Optic switch
Key Response:0.2ms
Anti-Ghosting Key:100% Anti-ghosting key
Extra Gaming Keycaps:8 ABS Keycaps
Hotkey:Multimedia Hotkey
Backlit: Customize RGB Animation
Backlit Brightness: Adjustable
Space-Bar: Screw stabilization enhanced space-bar
Memory Backlight: 6 on-board RGB lighting modes
Key Lifetime: Up to 100 million keystrokes
Report Rate: 1000Hz/1ms